Ingenuity Gaming General Review
Ingenuity Gaming General Review
For the past few decades, there have been several attempts by casino-based game developers to give players and casinos actual taste and feeling of what true gaming is all about. Stepping into the fray is Ingenuity gaming, which came on board almost a decade ago. With a bang, they launched into the fiercely competitive market, but they did something really remarkable - carving a niche by developing betting games by specialising in building fixed odds games for both international digital and offline casinos.
To remain and maintain their market push and customer loyalty for their services and products, they applied innovative acumen by getting specialist gaming mathematicians as part of Ingenuity gaming team. Not only that, they brought in Art, gaming engine, game UI/UX developers and other specialists.

As we all know, no game developer exists in isolation of course. Therefore, they entered into mutual business partnerships with most casinos and other game providers in order to bolster their stand in this market. Generally, Ingenuity gaming specialises in developing breath-taking and specially alluring games (Blackjack, Bingo, Craps, and Roulette) for her clients whom we have mentioned a bit earlier.
They are also in the business of integrating gaming elements and features like gaming graphics, mathematical components, QA and other gaming essentials. Moreso, Ingenuity gaming diversified into onboarding important ancillary services like maintenance, development operations, development of gaming platforms, QA service and others for offline and digital casinos and game developers.
Merits & Demerits
As part of custom required when analysing the inherent nitty-gritty of any game provider, the need for highlighting attractive attributes (merits) and weak points (demerits) of Ingenuity gaming is absolutely germane to this review.
Merits
Develops custom-built gaming content for game vendors like casinos and other game developers,
Games are completely optimised for adaptability on desktop and mobile platforms,
It gaming technology is geared towards ensuring unforgettable gameplay exposure that serves to engage players, elicit captivating thrills, and to entertain players,
Wonderful games that straddle all gaming categories, especially board, slot, card, keno and bingo games,
All games developed by Ingenuity gaming undergo 3 phases of industry quality standard tests to ensure actual quality control that see the games through its life cycle.
Demerits
Its main focus is game development for vendors and other gaming software developers.
Corporate Expansion
An enterprise that started with quite an appreciable poise as burgeoning gaming software company in 2005, with just a few guys from India has morphed into a globally gaming software development behemoth over a 15-year span. Thus, setting up corporate branches in famous gaming safe gaming jurisdictions, i.e., where they have operating licenses for their products and services like Isle of Man, USA, Malta, and the UK and with a huge spread in India. Each of its corporate spaces of Ingenuity gaming possess state-of-the-art office infrastructure.
Its top management are all of Indian origin with overwhelming portfolio of experience in the gaming sector. All of them synergised their expertise to keep the company running efficiently in meeting the demands of both vendors, game developers and players.
Processes to Gaming Software Development
Businesses stand the test of time when their business secrets are kept confidential. However, same applies to the business philosophy of Ingenuity gaming because it has several bespoke processes that gives it some advantage in the art of quality and solid game development for both vendors and providers due to metric- and data-driven processes which they adopted as part of their strategy; not forgetting customer relationship management and service are all factored into gaming development.
In accordance to a process chart on their website, the first step effective product and service has to do with infusion of mathematics and art.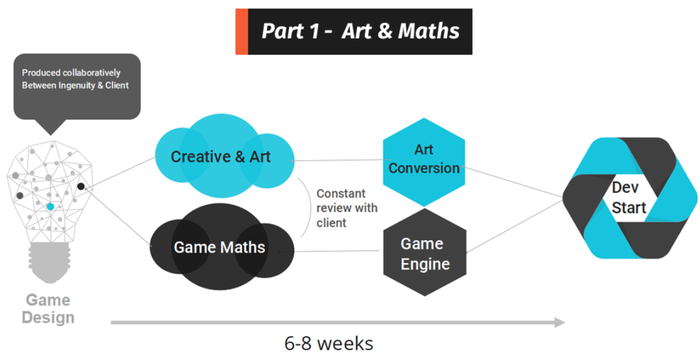 The second important aspect to its gaming development has to do with factoring in development operations whereby dedicated team of experts synergise; also incorporating reviews and feedbacks which help shape or fine-tune its development processes ensuring originality and precision, regulatory standards, complexity and language admissibility. All spanning a period of 8 to 10 weeks.
The last stage or process involves meeting industry required QA and compliance. Ingenuity gaming ensures that key quality control and regulatory compliance measures are duly followed during gaming development. This entails critical factors like undergoing compulsory testing processes in their well-equipped test labs before final submission for certification and final consumption. This process spans a period of 2 to 6 weeks.
All these processes ensures that their products are top-notch and unrivalled, and adding a turnkey solution to the gaming softwares for vendors. However, most of Ingenuity games are built based on artistic themes and gaming categories that are popular in the market, especially the 2- and 3-dimensional models.
Partnerships with Game Developers
To be able to maintain their niche, chain of vendors and web of interconnected providers; there's need for corporation. This has led to their renowned quality inputs in developing superb casino-based games (digital and offline) for big gaming companies which have been highlighted below, albeit pictorially through their corporate logos.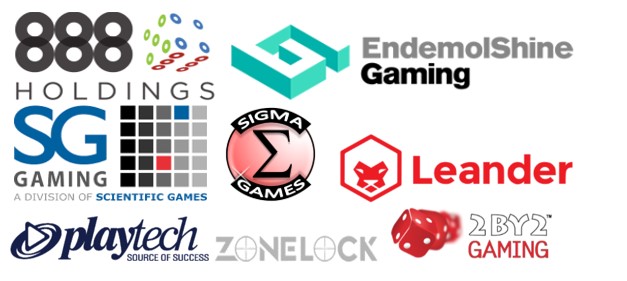 Prominent Games
Like we had earlier mentioned in subsequent paragraphs, Ingenuity gaming has its hands spread across categories of gaming development. Under this sub-heading we shall only mention some notable games they have developed and some of their attributes.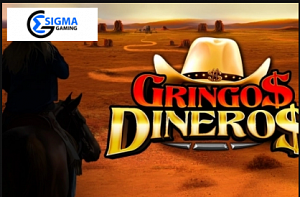 Gringo Dineros is a video slot developed by Ingenuity gaming for another game provider in January, 2014. It has a return to player percentage of 95.1%, with a medium volatility, 50 betways, 5 by 3 reels layout; and bears the following notable features: bonus game, freespins, multipliers, wild and scatter symbols. In terms of multi-platform compatibility and playability, it is meant for mobile platforms only. But its gameplay operates with 3 technological frameworks; Flash, html5 and Javascript.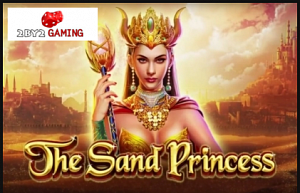 The Sand Princess is another quality video slot developed by Ingenuity gaming for another provider in February, 2018. However, the game is having a return to player percentage of 96%, with a medium volatility, 30 betways, 5x3 layout of reels. Other features include stack, random wilds, additional wilds, bonus and expanding symbols; freespins, return to player range, and multiplier. This game can be played only on mobile devices; but they are built to operate on Javascript and html5 frameworks.
Conclusion
It's obvious that Ingenuity gaming has clearly established corporate goals and objectives which has paved the way for it in the ever expanding and competitive gaming market. However, its business model is self-styled and quite basic as to serving only gaming vendors and providers. It has developed many games numbering in 1000s for game developers and all are of top quality, efficient and they meet both compliance and regulatory standards.
▷ Are Ingenuity games accessible for gameplay in every casino?
The answer to this poser could best be answered by saying that that her games are accessible on most casino vendor's gaming catalogue in jurisdictions their games are allowed for gameplay; notable among which is BGO Casino.
▷ Is there possibility of being offered bonuses on game by Ingenuity?
Yes, this is a tradition in the casino gaming market aimed at potential players.
▷ Can I play games by this provider on any platform?
This is actually possible, although some games are developed for mobile platforms, but generally, you can really enjoy playing most games from this provider across mobile and desktop platforms because they are mainly built on Javascript, html5 and Flash frameworks.