Gamesys Gaming Company Review
Gamesys Gaming Company Review
What started at the outset as Intertain Group Ltd., saw progressive growth after its establishment. So, in January of 2017, in the aftermath of corporate transactional rearrangement occasioned by the issuance of transferable shares between Intertain Grp. Ltd. and Jackpotjoy Plc., saw that JPJ Plc. assumed the position of the parent company of Intertain.
With a blossoming corporate clout growing, it JPJ Group Plc acquired Gamesys Ltd, thus, leading to a corporate christening of Gamesys Group Plc - a bigger corporate gaming advantageous positioning for greater market impact.

As we unwind the dimensions of this gaming provider, we can authoritatively report that this company specialises in operating top-tier digital casinos, especially, bingo-specialised gaming brands. The strength of its corporate thrust resides in developing a variety of peculiar and widely accepted portfolio of special bingo brands that offers world class user experience with power-packed gaming content to gamesters in jurisdictions where all Gamesys brands are allowed to be played.
Furthermore, we also discovered that the gaming company have grown with overwhelming momentum in acquiring many casino outlets first being Rainbow Riches Casino acquired in 2019 - offering famous brand equity of recognised slots in the world with special Rainbow Riches gaming themes under the auspices of Gamesys.
Also, the company entered into partnership with Virgin Games in 2013 which made it morph into a casino brand in pole-position in UK - it became recipient to 2 major awards as a result: Innovation in Casino & Best Marketing Campaigns. Other acquisitions include Vera&John - digital casino brand majorly established for female gamers; InterCasino - established in 1996; Monopoly Casino - established in 2015, specialising in branded monopoly and slot games currently in international gaming market; as well as other great brands in full operational capacity. All hallmarks of Gamesys legacy.
However, for the Indian market there are a total of 67 games from Gamesys, of which 65 are video slots, 1 is for scratch tickets, and 1 for other types.
Merits
What makes games attractive can be drawn from numerous traits that players and pundits consider germane to informing their resolve in settling for games developed by a particular provider. Therefore, we have the following merits associated with Gamesys games, which are as follows;
multi-platform functionality for gameplays (playable of both desktop and mobile platforms),
multi-framework-based gaming development (designed after Flash, Java, html5 and other functional technological frameworks),
sleek graphical gaming interface with captivating animations and themes,
partnerships with gaming companies, and company's rich gaming brand acquisition portfolio,
increasing number of gaming portfolio (including old and new themes),
offers of game-specific bonuses; and
possession of a good number of bingo-oriented casino games.
Demerits
As with every gaming outfit, there are obvious demerits or shortcomings that edges it off the competing line to some extent, which could be damaging to its market reputation or player loyalty. Therefore, we found a few downsides worthy of mention in our review of Gamesys.
mainly specialises in building bingo-based games; and
small number of partnerships with other gaming companies.
Notable Games
Across many jurisdictions where Gamesys games aren't prohibited for play, some data shows that gamesters favoured some themes, thus making them popular. These are Squirrel Warriors, Bejeweled 2 Slots, Wonders of the Deep, Tiki Island, The Godfather, Houdini, and many others. These games have alluring themes fancied by gamesters. For example, the Godfather is a slot developed thematically in line with famous Hollywood classic.

Nevertheless, in the Indian market, Gamesys games are adorable due the characteristics they possess as earlier highlighted. Famous slots from the gaming company making waves in India include, Valley of the Kings, Sapphire Sorceress, Zuma, A Girl's Best Friend, Agatha Christie's Mystery, Barnyard Bonanza, Ballroom Stars, as well as Bejeweled 2, and many others too numerous to mention. Below are some pictorial representations of these games with brief summaries.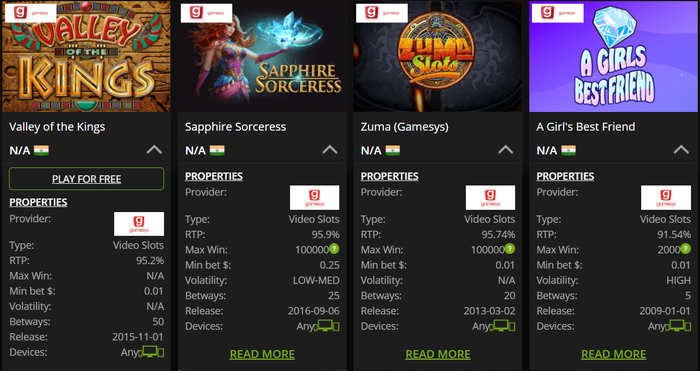 Remarkable Properties
Remarkable properties that adorn Gamesys games include user-friendliness, graphic thrill, engrossing animations, multiple gameplay choice, natural themes designed after classic stuffs players could relate with easily, most games are largely possess low to medium volatility levels and their return to player rates are always high above 90%, and many other properties.
Summary
As we can see so far, this review has unearthed the dimensions of the gaming provider that players and other industry stakeholder would really appreciate. However, we can say that Gamesys prides itself in developing bingo-inclined games but due to later acquisition of major casino outlets, they later diversified into building slots, poker and video pokers, and craps. The catch being the diversification of their reach for better product and service delivery.
Gamesys is home to many Indian players due to the quality of their games and other features that each game bears. They are licensed to operate in India, their operations are regulated and players have no doubt about how games are conducted because of the use of random number generator integrated in their slot machines to ensure fair play.
▷ What does Gamesys stand for?
Gamesys company specialises in operating top-tier digital casinos, especially, bingo-specialised gaming brands.
▷ Where is Gamesys based?
It's a UK based gaming company.
▷ Why should I play Gamesys-developed games?
Playing their games affords you gaming bonuses and enthralling gaming themes.